For Colleges/universities
For Colleges/Universities
What does the Industry want ?
Years of interaction with over one hundred corporate have helped us gain a crucial insight : companies look for competences which are a combination of knowledge, skills and attitudes while recruiting freshers. A prominent survey has revealed the following data about employer expectation rating and performance assessment of newly hired employees in terms of knowledge, skills and attitudes.
Clearly, there is a significant lag between industry expectations and the knowledge, skills and attitudes of employees fresh out of college.
The only way to make up for this is an effective ancillary program at the college level which addresses these critical factors.
A program which would not only ensure students are industry-ready but enhance the credibility and reputation of the college itself in corporate and academic circles.
A program that empowers students with greater knowledge, greater skills and greater attitudes and results in greater individual and institutional achievement.
Employer Expectation Rating and Performance Assessment of Newly Hired Employees by Attitudes.
Employer Expectation Rating and Performance Assessment of Newly Hired Employees by Knowledge
Employer Expectation Rating and Performance Assessment of Newly Hired Employees by Skill
The Power to Achieve is here !
Introducing Students' Destination –  a unique and indispensable platform that empowers students to determine and achieve their career objectives through Applied Behavioural Science.
This pioneering initiative is backed by industry veterans and offers self assessments, insights into making the right career choices, counselling by certified professionals and various professional & personal development skills that enhance the confidence of students and prepare them for the corporate world.
Focus on Outcomes/Results

Every module has clearly defined outcomes and a methodology to ensure that results are achieved.

Change is not an event. We use a systematic process for the smooth transition to change in knowledge, skills and judgment.

Placement index, Pre-assessment and Post-assessment help colleges and students understand their actual standing and progress.

Every module has clearly defined measurables and ways to assess them.
For School Students
Study Stream Aptitude Evaluation & Guidance
Career Aptitude Evaluation & Guidance
Webinars by Industry Veterans
Repository of College Information
Information on Occupations and Industries
For College Students
Campus to Corporate Workshop Series
Webinars by Industry Veterans
E-Library
Information on Occupations and Industries
For Career Counsellors
Career Counselling Certification
Incubation Support Services
Access to Database
Sustained Business Development & Process Support
Research and Updated Information on Occupations, Industries and Colleges
Insights on Career Trends
For Parents
Services on Understanding Careers
Counselling on Available Career Options
Webinars by Industry Experts
Information on New Age Professions, Fastest Growing Professions and Highest Paying Professions
Webinars by Industry Experts
CAMPUS TO CORPORATE : KEY OBJECTIVES

GREATER START
Empower students with the right mindset and skill set to successfully start their careers.

GREATER PLACEMENTS
Enable colleges to have an outstanding record of placements.

GREATER CREDIBILITY
Enhance the confidence of parents in the college to help their children achieve their career aspirations.

GREATER COMPETENCE
Give corporates a new breed of competent and highly productive fresher's.

GREATER EMPLOYABILITY
Help millions of young Indians become a part of the country's  growth story by improving their employability skills.
THE STUDENTS' DESTINATION ADVANTAGE
Students' Destination features highly focused concepts and practice rather than theory. Its high quality modules are in sync with the current industry scenario. Well researched and highly comprehensive blended technology alongwith personalized progress report and development plan ensure transformation in mindset and skill set for students.
Also, articles and webinars by industry veterans and thought leaders, free online profiling around personality and strengths, peer group leverage to drive motivation and ability, effective placement process through our corporate network and deployment of Influencer Model help in starting and sustaining change.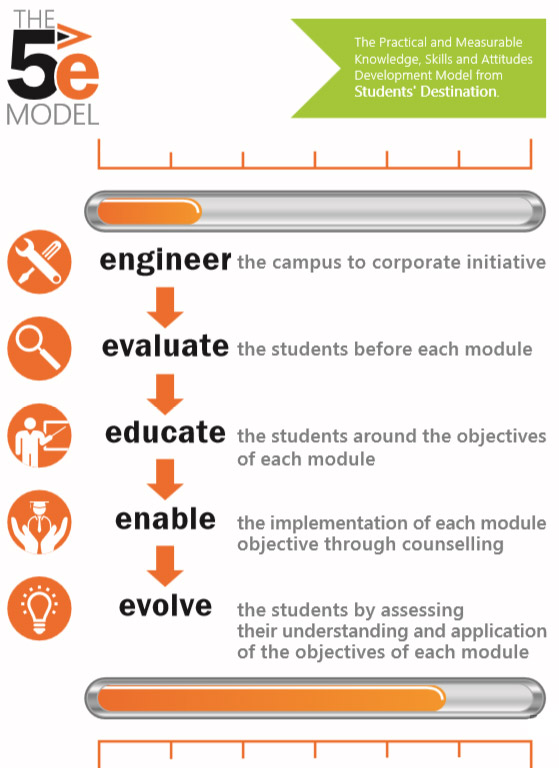 TRANSFORMATION IN MIND SET AND SKILL SET
STAGE1 – engineer
DELIVERABLES :
Understand the College :
Study the feedback given by the students to the college.
Customise workshop content using principles of Instructional Design    and Applied Behavioural Science.
Design case studies, activities and role plays.
Design appropriate training tools & techniques.
STAGE2 – evaluate
DELIVERABLES :
Assess the students around :

Knowledge
Competencies
Skills
Judgment

Help students understand their journey ahead of them
STAGE3 – educate
DELIVERABLES :
Deliver the learning on the objectives of each module
Introduce the students to the coaching program (way forward).
Deliver 200 hours of content in the areas of :

Personal Readiness
Interpersonal Readiness
Occupational Readiness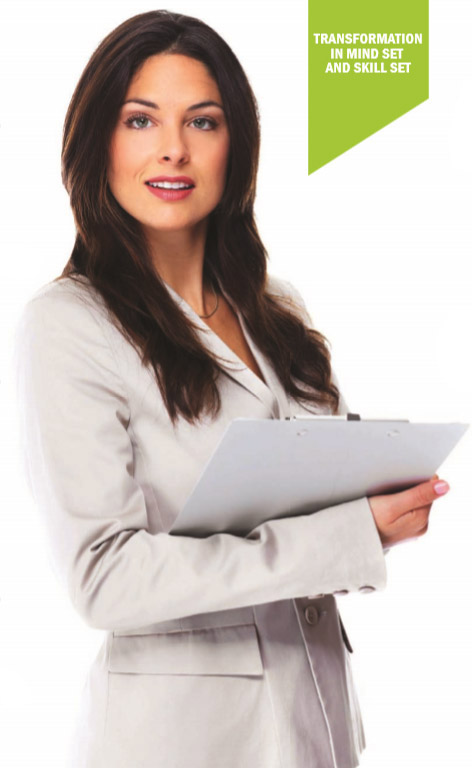 STAGE4 – enable
DELIVERABLES :
Coach the students on an ongoing basis to help them implement    the objectives of each module.
Share researched articles and best practices from McKinsey, Harvard     and CLC around each module.
Conduct webinars by bringing all the students together to discuss.
Identify and help students overcome the barriers to implementation.
STAGE5 – evolve
DELIVERABLES :
Assess the students at the end of each module around :

Knowledge
Competencies
Skills
Judgment

Review success stories from various students.
Collaborate all sources and keep motivation going.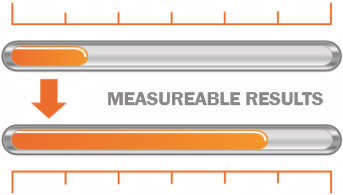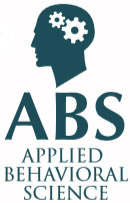 Our experience shows when we are training to build skills, the methods and systems that we select can make or break the success of the training efforts. In our many years of experience in training we have realized that to get the most out of training effort it takes an understanding of how new behaviors are learnt and sustained.
Many traditional training programs focus on providing large amounts of information, with limited opportunities for the learner to respond and even fewer opportunities for immediate feedback specific to each response. At most, these training programs might train to a level of mastery where the end result is simply a demonstration of accuracy. However, research has shown that using feedback and frequent reinforcement to train results in faster acquisition, better accuracy and higher retention.
What we know about behavior can drastically impact the true success of our training programs. And now there is about a century of research on the laws of behavior which have guided the development of our training programs. The foundation of our knowledge of fluency comes from Applied Behavioral Science.
The foundation of ABS is the model of Antecedents, Behavior and Consequences.

In order for the training to be effective the behaviors must be specific and there must be frequent opportunities for the learner to respond. Any behavior occurs because something came before it to prompt it (antecedents).
With properly designed antecedent information, fluent responding will help ensure the student responds correctly to similar situations in life. We embed the science of behavior in our instructional systems. This ensures the development of judgment as to when to demonstrate the right behaviors and stay motivated to build the skill.
The first step is to identify the skill to be built and break it down into component behaviors that are measureable, observable, reliable and specific. But these behaviors still need to be performed by the student until the skill is developed, … so how can the science of behavior help us in this regard ? How will a student demonstrate learning ? What type of responding will be required ? These are all important questions that are central to the ABC Model of Applied Behavioral Science.
Applied Behavioral Science tells us that if these new behaviors are not positively reinforced then they will not continue. There is always a need for the frequent use of positive reinforcers directly following behavior when building any new skill.
Our training allows for frequent positive reinforcement and specific feedback. Use of consequences not only increases the opportunity for accurate responding but also makes the very progression of the training serve as a positive reinforcer.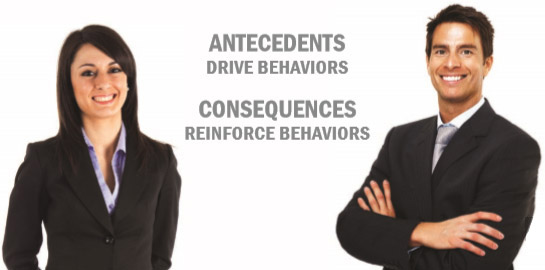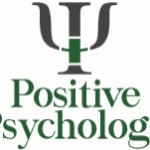 Positive psychology is the branch of psychology that uses scientific understanding and effective intervention to aid in the achievement of a satisfactory life.
The practical application of positive psychology assists students in identifying strengths so as to increase and sustain well-being. Our counsellors and coaches use new methods and techniques to enhance the happiness index of the students.
Tools of positive psychology encourage students to strive to do their best. Research studies in positive psychology show that when students learn and apply the tools of positive pyschology their performance is enhanced upto 71%.  Other benefits include enhanced discretionary efforts, better relationships, more hope, faith and positive emotions.
PROGRAM METHODOLOGY
Our module delivery would use a combination of the following :
Pre-Assessment
Interactive Sessions
Case Studies
Games & Exercise
Videos and Webinars
Developmental Exercises
Group Discussion
Assignments
Online Questionnaire
Group Coaching
Post-Assessment
Through our program elements we focus on Knowledge (Information on what to do), Comprehension (Understanding knowledge at a deeper level), Skills (Developing the ability to do it) and Judgment (Demonstrating the skills in the right situation).
VALUE PROPOSITION  :  For Colleges

GREATER CREDIBILITY
Enhanced credibility in corporate circles.

GREATER PREFERENCE
Preference by future students and their parents.

GREATER TRACK RECORD
Alumni with more successful career track records.

GREATER REPUTATION
Unmatched reputation in the peer community.

GREATER CONFIDENCE
Higher self-confidence in teachers, parents & students of current batches.
VALUE PROPOSITION  :  For Students

GREATER EMPLOYABILITY
Enhanced levels of employability.

GREATER ATTITUDES
Development of successful professional attitudes.

GREATER CLARITY
Optimal clarity on goals and careers.

GREATER CONFIDENCE
Complete confidence in handling job interviews.

GREATER START

Brilliant start to a happy career.

GREATER COMPETENCE
Real world corporate-scenario-oriented competence.